Vandaag wil ik even mijn jongste zoon (6 jaar) in het zonnetje zetten. Hij is één en al creativiteit. Bijna altijd is hij aan het tekenen of knutselen. Alles wat hij in zijn hoofd heeft wil en zal hij ook zelf maken. Hij zoekt dan overal naar geschikte materialen en gaat net zolang door tot het naar wens is.
Bijvoorbeeld een zelfgemaakte pop. Tenminste, het hoofd daarvan. Het lijf moet nog gemaakt worden. Hij heeft gewoon een stuk stof gezocht. Daar een hoofd uitgeknipt en met plakband in elkaar geplakt. Plakband is ook echt zijn favoriete hulpmiddel om zijn hersenspinsels vorm te geven. Vulling in het hoofd. Een paar strengen Zpagetti voor de haren, vlechten gemaakt en klaar is je pop(penhoofd).
---
Today in the picture my youngest son (6 years). He is creativity. He draws and makes things all the time. He searches everywhere in the house for the right materials to make everything what he has in mind.
For example a self made doll. Well, the head of a doll. He has yet to make the body. He found some fabric for the head and put everything it together with Scotch tape. Scotch tape is his best friend. He uses it for everything. The hair is made of some strings of Zpagetti T-shirt yarn. And see the result.
Hij maakt heel vaak dingen als stoplichten, verkeersborden, slagbomen voor bij zijn treinbaan. Dit maakt hij
op allerlei verschillende manieren.
Dit zijn waarschuwingsborden voor stoplichten gemaakt van een legoblokje, een rietje en een tekeningetje op papier vastgeplakt met plakband.
De kinderen gebruiken hier de rietjes niet om te drinken. Meestal gebruikt deze kleine kerel het als straatverlichting of als verkeerslicht. Een stukje kneedgum onder het rietje en het blijft keurig rechtop staan.
He also makes things like traffic lights and traffic signs. This sign is made out of paper, a straw and one piece of Lego.
In my house the boys don't use straws to drink. Most of the time this boy turns it into a traffic light or a street light (I don't know if that's the right word, but I think you know what I mean).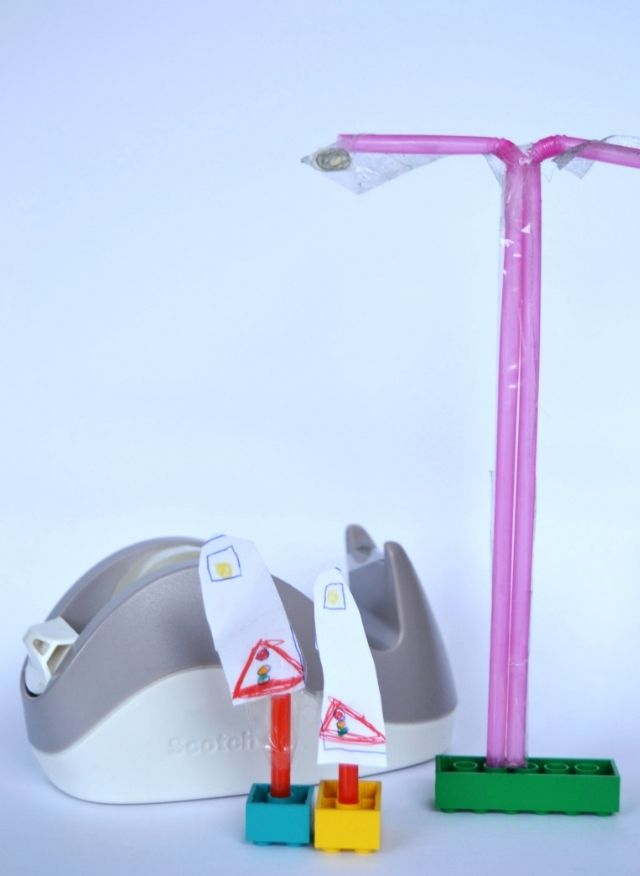 En dit is mijn kleine kunstenaar.
---
And this is my little artist.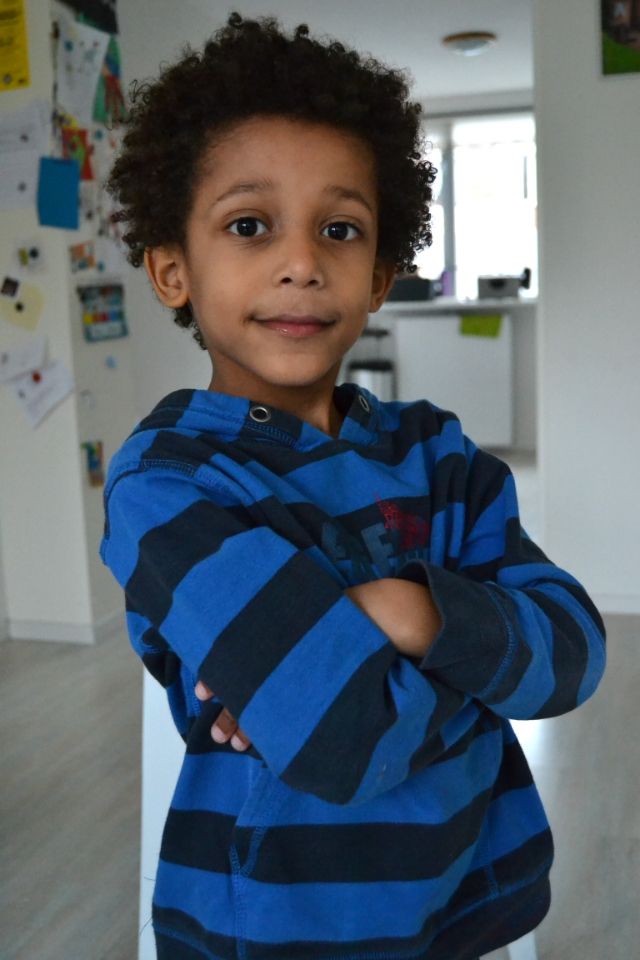 Op Instagram (zie ook het logo aan de rechter kant) plaats ik vaker foto's van zijn creaties.
---
You can also visit me on Instagram (see the button on the sidebar). There you can find pictures of his creations more often.